Thich Nhat Hanh
Thich Nhat Hanh is considered by many to be the father of mindfulness in the west.
Thay (or "teacher") as he is affectionately known by his students, is a gentle humble Vietnamese monk, author, poet, calligrapher, teacher, and peace activist revered throughout the world for his powerful teachings and bestselling writings on mindfulness and peace.
His key teaching is that, through mindfulness, we can learn to live happily in the present moment—the only way to truly develop peace, both in one's self and in the world.
Thich Nhat Hanh has published over 100 titles on meditation, mindfulness, and Engaged Buddhism, as well as poems, children's stories, and commentaries on ancient Buddhist texts.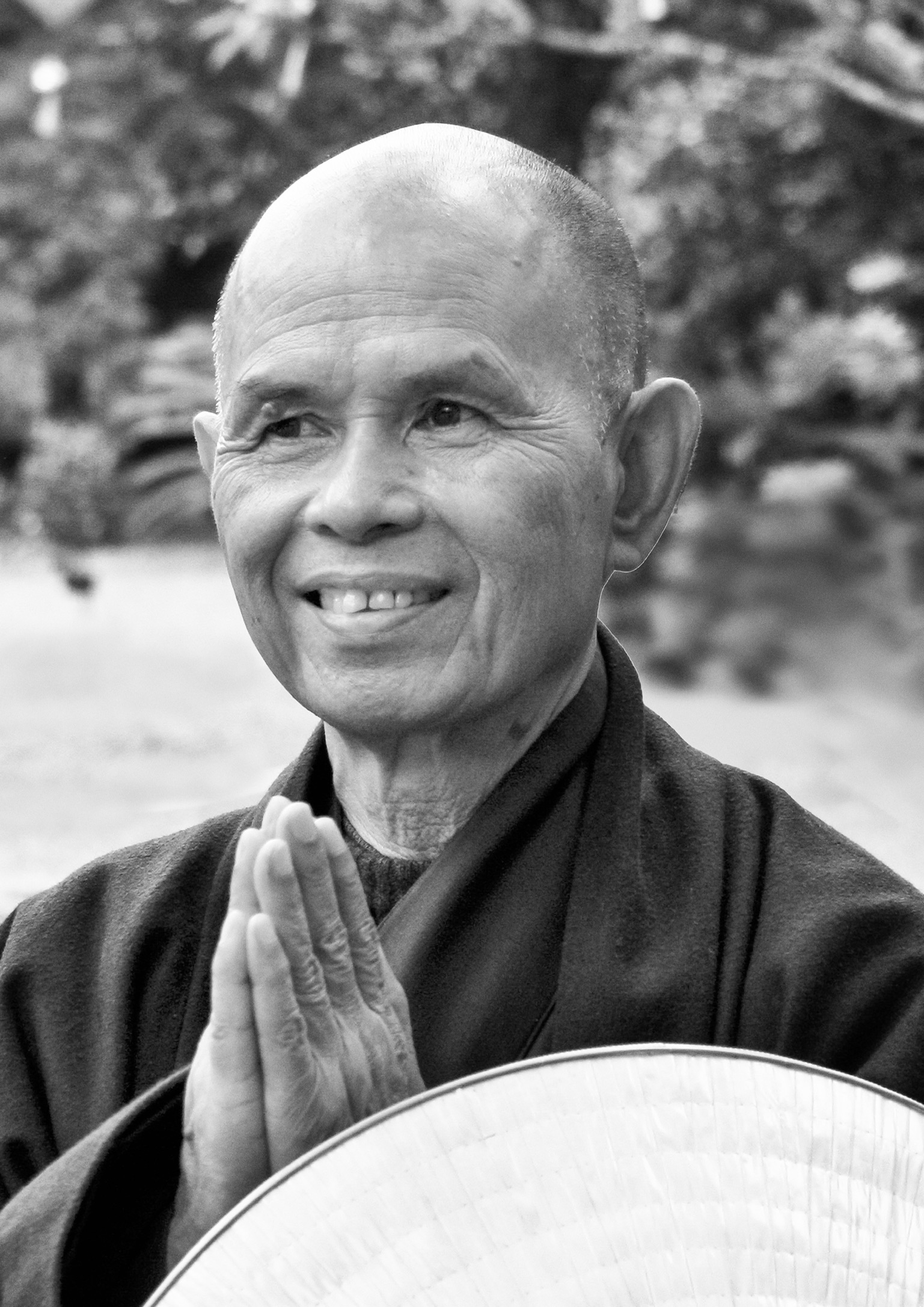 Biography
Thay was born in Vietnam in 1926 and became a fully ordained monk in 1949.
Throughout the 1950s he was actively involved in efforts to renew Vietnamese Buddhism.
When war came to Vietnam, monks and nuns were confronted with the question of whether to adhere to the contemplative life and stay meditating in the monasteries, or to help those around them suffering under the bombings and turmoil of war. Thich Nhat Hanh was one of those who chose to do both, and in doing so founded the Engaged Buddhism movement.
https://upliftconnect.com/thich-nhat-hanhs-14-principles-of-engaged-buddhism/
This reflected his belief that it is possible to combine the contemplative life while helping those in the wider community who are suffering. His life has since been dedicated to the work of inner transformation for the benefit of individuals and society.
In 1966, Thich Nhat Hanh returned to the U.S. and Europe appealing for an end to the war. In Vietnam, Thay was deemed a traitor and denied the right to return. Exiled in the west, he continued to teach and write on the art of mindfulness
He has worked tirelessly for peace, and in 1967, Thay was nominated by Martin Luther King for the Nobel Peace Prize.
In 1974 he founded Plum Village (a Buddhist training monastery in France),
Through Thay's leadership, Plum Village has grown into a thriving retreat and practice center. Over the years, other monasteries and practice centers in the Plum Village tradition have been established in various places including Dharma Gaia in New Zealand https://www.dharmagaia.org/
In 2014 aged 88, Thich Nhat Hanh suffered a severe stroke that left him unable to speak and mostly paralysed on his right side. In spite of this he continued to offer the dharma and inspiration with his peaceful, serene and valiant presence.
In 2018 he returned home to Vietnam to the Tu Hieu Temple that he had first entered as a teenage novice monk.
He lived there for the remainder of his days until his death aged 95 in January 2022.